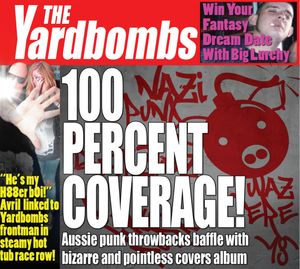 Genre:
Punk
Year:
2022
Label:
Nordic Sun Records Budapest
Tracklist:
01. American Aryan Girl
02. Banned from the pub
03. Breaking the law
04. Kill yourself
05. Lesson in violence
06. Hate and whiskey
07. Fight for your right (to nazi)
08. Rock'n'roll nigger
09. Something to believe
10. Payback
11. Time
12. H88er bOi!
13. That aint my America
14. When the generals talk
15. Where have all the bootboys gone?
16. 88 Balloons
Quote:
The Australian band has once again shown a flick to the world, this time by giving new meaning to 16 pop-rock hits with their unique and humorous lyrics.
This is the 6th Yardbombs album in a row on which Jesse's (Death Head) vocals make the familiar melodies quite loveable.
The graphics on the digipack cover faithfully reflect what you can expect while listening to the CD.
Promo mix
88 Balloons
Main thread