Ελληνική Εθνικιστική Σκηνή - Τα Πρώτα Χρόνια
(Hellenic Nationalist Scene - The Early Years)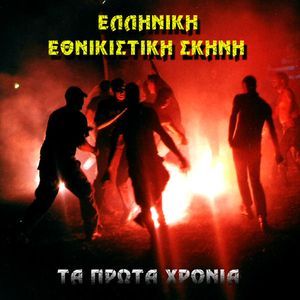 Country:
Greece
Genre:
RAC \ Black Metal \ Punk \ Metal
Year:
2007
Label:
Rage Sound Records
Bitrate:
320
Size:
110
This album is a collection from old historical hellenic RAC bands! Released in 2007 and now it is difficult to release it again!
Tracklist:
Hellgrinder
01. Ξυπνάτε-Μίλα Ελληνικά ή Ψώφα (Wake Up-Speak Greek or Die) (02:59)
02. Σφάξε έναν αλβανό (Slaughter an Albanian) (01:53)
Gas Chambers
03. Θάλαμοι Αερίων (Booths of Gases) (06:00)
04. Κενό στην Υπαρξη Ζωής (Void in the Existence of Life) (04:07)
05. Θέα του Χάους (View of Chaos) (04:12)
Total Purgation \ Total Cleansing
06. Χακί Στολή κι Αρβύλες (Army Green Uniform and Boots) (03:47)
07. Βία στη Βία (Violence in the Violence) (03:37)
08. Αλύτρωτες Πατρίδες (*?* Homelands) (05:46)
09. Μαλάκα Αστέ (Asshole Bourgeois) (03:56)
Mahen
10. Η Φιλία με τους Τούρκους (The friendship with Turks) (02:57)
Cause of Honour
11. Βόρειος Ηπειρος (North Epirus) (02:18)
The Shadow Order
12. Τιμή μας η Πίστης (Our Honour the Faith) (04:01)
takefile
You do not have sufficient rights to see the hidden data contained here.