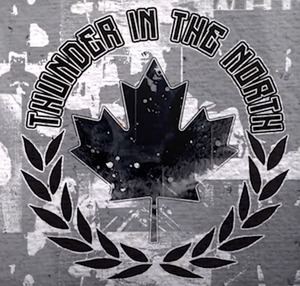 Genre:
RAC \ Hardcore \ Black Metal
Year:
2021
Label:
Wewelsburg Records
Re-edition of the
Thunder in the North
of 1994 with additional 6 tracks.
Quote:
Erschienen bei Wewelsburg Records. Ursprünglich erschien dieser Sampler 1994 in Kanada in Kassettenform, vertrieben durch White Terror Records. Es beinhaltete alle damals relevanten Bands der Kanadischen White Power Musikszene. 27 Jahre später wurde dieser Sampler noch einmal aus dem Vergessen gerissen und aktualisiert. Einige Titel mussten aus juristischen Gründen leider weichen, dafür wurden andere Titel hinzugefügt. Alles natürlich noch einmal gemastert. Ein Großteil der Stücke sind in Studioqualität, bei Odins Law wurde Material vom Demo verwendet. Neben den bereits genannten Odins Law, sind noch Involved Patriots, White Riot, Excessive Force, Ragnarök, Nordwind (die Kanadier), Subsidium, Negative Response und Kremator dabei. Ein Sampler mit Ecken und Kanten, aber unterm Strich wirklich hörenswert.
Preview